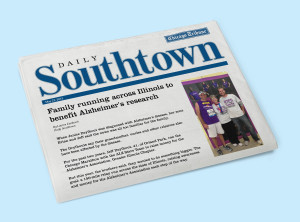 A big thank you to the folks at the Daily Southtown and the Chicago Tribune to help us get the word out about Run Across Illinois.
When Janice Dryfhout was diagnosed with Alzheimer's disease, her sons Brian and Jeff said the news was all too familiar for the family.

The Dryfhouts say their grandmother, uncles and other relatives also have been affected by the disease.

For the past two years, Jeff Dryfhout, 41, of Orland Park, ran the Chicago Marathon with the ALZ Stars Team to raise money for the Alzheimer's Association, Greater Illinois Chapter.

But this year, the brothers said, they wanted to do something bigger. The goal: a 150-mile relay run across the state of Illinois, raising awareness and money for the Alzheimer's Association each step of the way.